Best places to visit in Singapore : Singapore offers a wide range of attractions and experiences for visitors. Here are some of the best places to visit in Singapore:
Read Also : Top 10 places to visit in Canada
Best places to visit in Singapore
1. Marina Bay Sands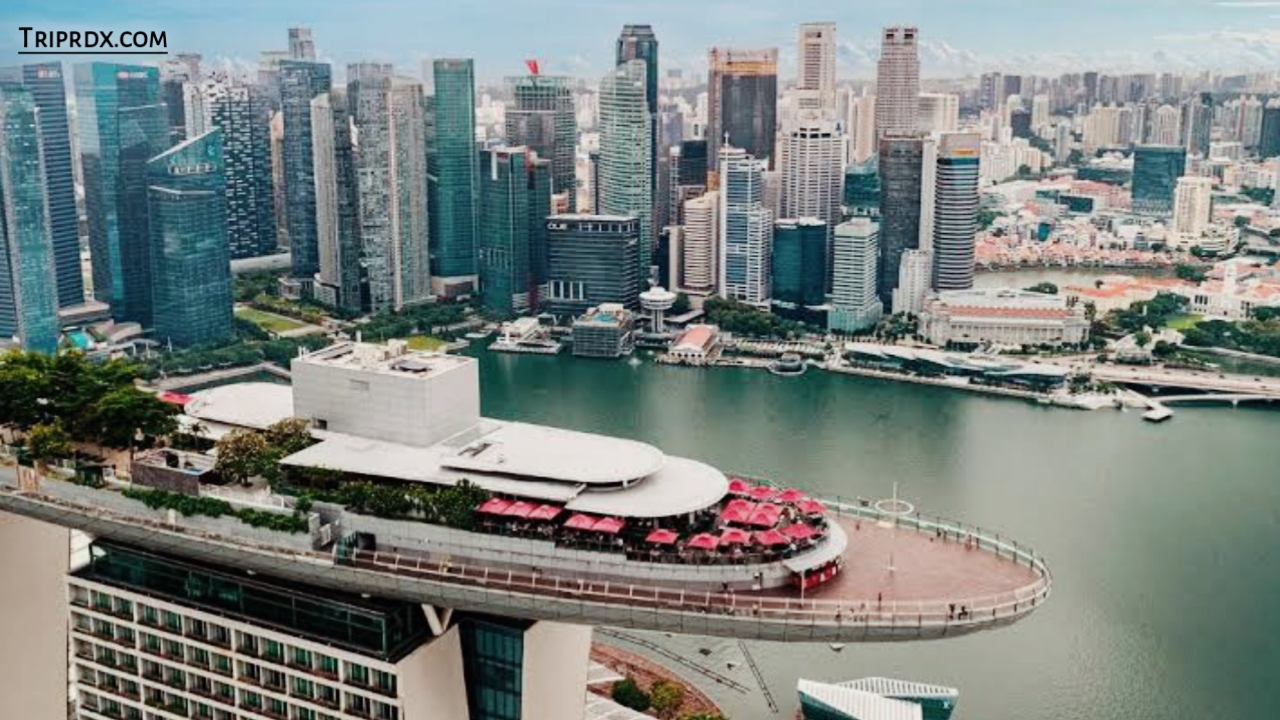 This iconic integrated resort complex features a stunning rooftop pool, luxurious accommodations, a casino, high-end shopping, and a mesmerizing light and water show called the Spectra.
Marina Bay Sands is a world-renowned integrated resort located in the Marina Bay area of Singapore. It is one of the most iconic landmarks in the city and offers a range of attractions and entertainment options. Here's what you can experience at Marina Bay Sands:
Sky Park Observation Deck: The Sky Park is a massive rooftop deck that offers breathtaking panoramic views of the city skyline, Marina Bay, and the surrounding areas. It's a great spot to capture stunning photos.
Infinity Pool: Marina Bay Sands is famous for its rooftop Infinity Pool, which is the world's largest rooftop pool at that height. It provides an unparalleled swimming experience with an incredible view of the cityscape.
Art Science Museum: Shaped like a lotus flower, the Art Science Museum is an architectural masterpiece. It hosts various exhibitions that explore the intersection of art, science, and technology, offering immersive and interactive displays.
The Shoppes at Marina Bay Sands: This upscale shopping mall boasts a wide range of luxury brands, international boutiques, and designer stores. It's a paradise for fashion enthusiasts and offers a diverse selection of dining options.
Casino: Marina Bay Sands is home to one of Singapore's largest and most luxurious casinos. The casino floor offers a wide array of table games, slot machines, and electronic gaming options for those feeling lucky.
Theatres and Entertainment: Marina Bay Sands is a hub for world-class entertainment. The resort features multiple theatres that host international musicals, concerts, and theatrical performances throughout the year.
Restaurants and Dining: With over 80 dining options, Marina Bay Sands caters to every palate. From Michelin-starred restaurants to celebrity chef establishments and casual eateries, you'll find a wide range of cuisines and dining experiences to choose from.
Spectra Light and Water Show: This mesmerizing outdoor light and water show takes place at the Event Plaza near the Shoppes at Marina Bay Sands. It combines water jets, lasers, and projections to create a captivating spectacle.
2. Gardens by the Bay
A breathtaking nature park with futuristic Supertrees, lush gardens, and two climate-controlled conservatories—the Flower Dome and Cloud Forest—where you can explore diverse plant species from around the world.
Gardens by the Bay is a must-visit destination in Singapore, renowned for its stunning gardens, futuristic architecture, and impressive horticultural displays. Here's what you can expect to see and do at Gardens by the Bay:
Supertrees: These towering structures, ranging from 25 to 50 meters in height, are the most recognizable feature of Gardens by the Bay. They are vertical gardens covered in a variety of plants and fitted with solar panels. The Supertrees come alive at night with a mesmerizing light and sound show called the Garden Rhapsody.
Flower Dome: Step into the world's largest glass greenhouse and explore the Flower Dome, which showcases an array of plants and flowers from different regions and climates around the world. The dome is divided into different themed gardens, offering a visually captivating experience.
Cloud Forest: Discover the cool misty world of Cloud Forest, a climate-controlled conservatory that replicates the conditions found in tropical mountain regions. Explore the towering indoor waterfall, walk along the aerial walkways, and admire the unique plant species, including epiphytes and ferns.
OCBC Skyway: Take a stroll along the OCBC Skyway, a suspended walkway that connects the Supertrees and offers panoramic views of the gardens and the city skyline. It's a great vantage point to capture stunning photographs.
Children's Garden: Designed for young visitors, the Children's Garden is an interactive outdoor play area with water play features, treehouses, and educational exhibits. Kids can have a blast exploring the different zones and engaging in water play activities.
Heritage Gardens: Immerse yourself in Singapore's rich heritage at the Heritage Gardens, which feature themed gardens representing the different cultural groups that make up the country's diverse society, such as the Indian Garden, Chinese Garden, and Malay Garden.
Floral Fantasy: Enter a world of blooms and whimsical landscapes at Floral Fantasy. This indoor garden showcases a series of immersive and Instagram-worthy installations, including floating floral displays, vertical gardens, and interactive exhibits.
Outdoor Gardens: Gardens by the Bay encompasses extensive outdoor gardens with beautifully landscaped spaces, including the Serene Garden, World of Plants, and Sun Pavilion. Take a leisurely stroll, enjoy the fresh air, and appreciate the natural beauty of the surroundings.
Read Also : Best places to visit in the USA
3. Sentosa Island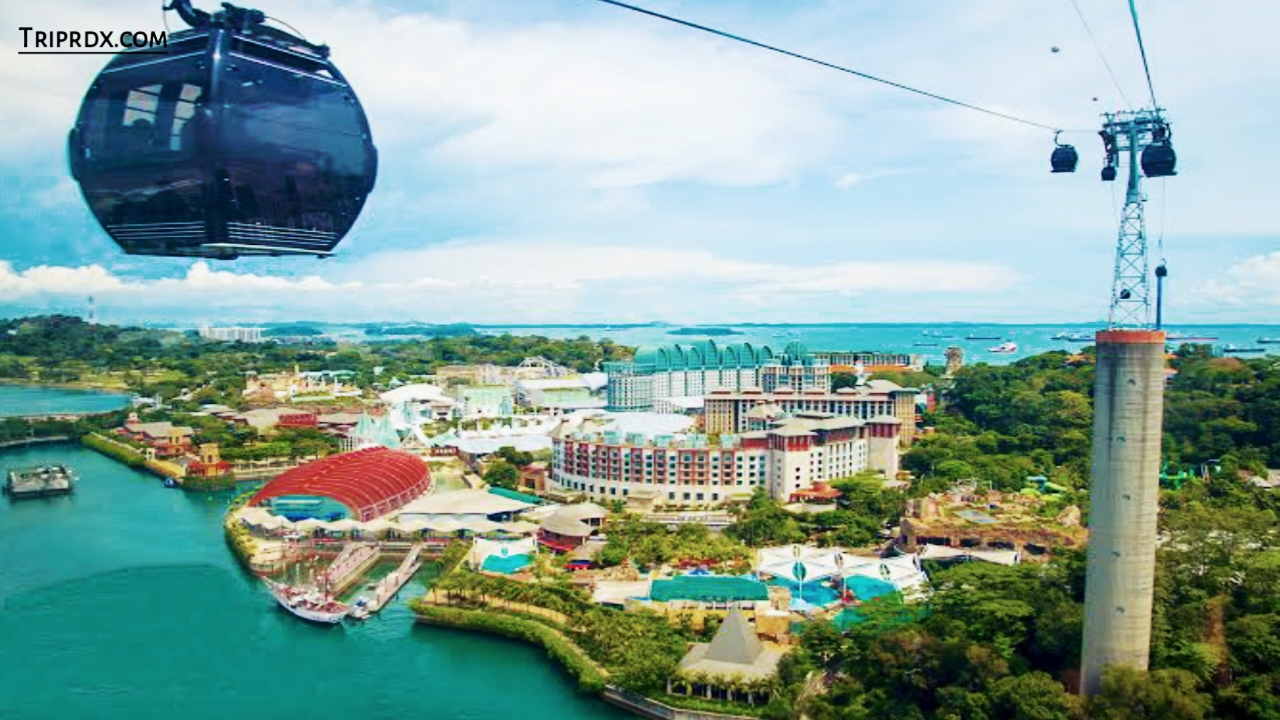 A popular resort island with beautiful beaches, theme parks like Universal Studios Singapore, adventure activities, golf courses, and numerous entertainment options.
Sentosa Island is a popular resort island located just off the southern coast of Singapore. Known as "The State of Fun," Sentosa offers a wide range of attractions, entertainment, and recreational activities. Here's what you can explore on Sentosa Island:
Universal Studios Singapore: One of the main highlights of Sentosa Island, Universal Studios Singapore is a world-class theme park featuring thrilling rides, live shows, and immersive experiences based on popular movies and TV shows.
S.E.A. Aquarium: Step into the underwater world at the S.E.A. Aquarium, one of the largest aquariums in the world. It showcases a vast collection of marine life, including sharks, rays, dolphins, and various species of fish.
Adventure Cove Waterpark: Cool off and have a splashing good time at Adventure Cove Waterpark. Enjoy thrilling water slides, a lazy river, wave pools, and snorkeling among colorful coral reefs.
Sentosa Beaches: Sentosa Island boasts several beautiful beaches where you can relax, soak up the sun, and enjoy various water sports. Siloso Beach, Palawan Beach, and Tanjong Beach offer a range of beachside activities and dining options.
Skyline Luge Sentosa: Experience an exhilarating ride on the Skyline Luge, a unique wheeled gravity ride that allows you to control your descent down a winding track, offering a mix of speed and scenic views.
Sentosa Merlion: Visit the iconic Merlion statue, a half-lion, half-fish symbol of Singapore. Climb up to the Merlion's head for panoramic views of the island and the city skyline.
Sentosa Boardwalk: Take a leisurely stroll along the Sentosa Boardwalk, a scenic walkway that connects VivoCity Mall to Sentosa Island. Enjoy picturesque views of the harbor and lush greenery.
Madame Tussauds Singapore: Get up close to lifelike wax figures of your favorite celebrities, sports stars, and historical icons at Madame Tussauds Singapore. Strike a pose and capture memorable photos.
Sentosa Golf Club: Golf enthusiasts can tee off at the Sentosa Golf Club, featuring two championship golf courses with stunning views and world-class facilities.
Fort Siloso: Step back in time and explore the historic Fort Siloso, the only preserved coastal fort in Singapore. Discover its military artifacts, cannons, and underground tunnels, providing insights into Singapore's wartime history.
4. Orchard Road
Singapore's famous shopping street, lined with upscale malls, boutique shops, and renowned brands. It's a paradise for shopaholics.
Orchard Road is Singapore's premier shopping street and a bustling hub of activity. It stretches for approximately 2.2 kilometers and is lined with a plethora of shopping malls, department stores, boutique shops, luxury brands, and entertainment options. Here's what you can expect to find and experience along Orchard Road:
Shopping Malls: Orchard Road is home to a multitude of shopping malls, including ION Orchard, Ngee Ann City, Paragon, Takashimaya Shopping Centre, Wisma Atria, and many more. These malls offer a wide range of fashion, electronics, accessories, beauty, and lifestyle stores catering to different budgets and tastes.
Luxury Brands: Orchard Road is a paradise for luxury shoppers, with flagship stores of renowned international brands such as Chanel, Louis Vuitton, Gucci, Prada, and Hermès. You can indulge in high-end shopping and find the latest fashion and designer goods.
Department Stores: Takashimaya Shopping Centre and Ngee Ann City house popular department stores offering a diverse range of products, including fashion, cosmetics, home goods, and food. Takashimaya is particularly known for its extensive selection of Japanese products.
Orchard Road Christmas Light-Up: During the festive season, Orchard Road transforms into a magical wonderland with stunning light decorations and displays. The annual Orchard Road Christmas Light-Up attracts both locals and tourists, creating a vibrant and joyful atmosphere.
Gourmet Dining: Orchard Road boasts numerous restaurants, cafes, and food courts where you can savor a wide variety of cuisines, from local Singaporean delights to international fare. Many shopping malls also feature food halls and gourmet supermarkets offering a range of culinary delights.
Events and Entertainment: Orchard Road often hosts various events, promotions, and live performances, adding to the lively atmosphere. You might come across street performances, art installations, fashion shows, or cultural festivals while strolling along the road.
Orchard Road Pedestrian Walkways: Orchard Road provides well-designed pedestrian walkways with shaded areas, seating, and lush greenery, creating a pleasant environment for shoppers to take a break or simply enjoy the surroundings.
Late-Night Shopping: Several malls along Orchard Road, such as ION Orchard and Paragon, offer extended shopping hours, allowing you to indulge in retail therapy until late in the evening.
5. Chinatown
An atmospheric neighborhood filled with traditional shops, vibrant markets, delicious street food, and historical sites like the Buddha Tooth Relic Temple and Maxwell Food Centre.
Chinatown is a vibrant and culturally rich neighborhood in Singapore that offers a glimpse into the city-state's Chinese heritage. It is a bustling district with colorful streets, traditional shops, bustling markets, and a wide array of delicious Chinese cuisine. Here's what you can explore and experience in Chinatown:
Buddha Tooth Relic Temple and Museum: This grand temple is a prominent landmark in Chinatown and houses a sacred tooth relic of the Buddha. Explore the various halls, prayer rooms, and the museum that showcases Buddhist artifacts.
Chinatown Heritage Centre: Step into the Chinatown Heritage Centre to learn about the history, culture, and daily life of Singapore's early Chinese immigrants. The center provides a comprehensive and immersive experience with reconstructed living spaces and interactive exhibits.
Street Markets: Explore the vibrant street markets of Chinatown, such as Chinatown Street Market on Pagoda Street and the Night Market along Smith Street. Here, you can find a wide range of souvenirs, handicrafts, traditional clothing, and Chinese trinkets.
Traditional Shophouses: Wander through the charming lanes of Chinatown to admire the beautifully preserved traditional shophouses. These colorful buildings feature unique architectural styles and are home to various shops, cafes, and restaurants.
Food and Hawker Stalls: Chinatown is a food lover's paradise, with numerous hawker stalls, eateries, and restaurants serving authentic Chinese cuisine. Sample mouthwatering dishes like Hainanese chicken rice, char kway teow, dim sum, and chili crab.
Sri Mariamman Temple: Located on South Bridge Road, the Sri Mariamman Temple is Singapore's oldest Hindu temple and an architectural gem. Admire the intricately carved gopuram (tower) and experience the Hindu religious rituals and ceremonies.
Chinatown Food Street: Indulge in a wide variety of local street food at Chinatown Food Street, a pedestrianized food street lined with hawker stalls and open-air restaurants. Try local favorites like satay, Hokkien mee, and oyster omelet.
Chinese Heritage Centre: Located within the restored Thian Hock Keng Temple, the Chinese Heritage Centre provides insights into the history, customs, and contributions of the Chinese community in Singapore. It features multimedia exhibits and interactive displays.
Festivals and Celebrations: Chinatown comes alive during festive seasons such as Chinese New Year and Mid-Autumn Festival. Witness colorful decorations, dragon and lion dance performances, and vibrant street celebrations.
Traditional Chinese Medicine Shops: Explore the traditional Chinese medicine shops in Chinatown, where you can find a variety of herbs, remedies, and health products. Some shops offer consultations with experienced Chinese medicine practitioners.
Read Also : Singapore Noodles recipe
6. Little India
Experience the vibrant Indian culture, visit colorful temples, explore spice-scented streets, and savor authentic Indian cuisine.
Little India is a vibrant and culturally rich neighborhood in Singapore that showcases the city-state's Indian heritage. It is a bustling district filled with colorful streets, aromatic spices, traditional shops, bustling markets, and authentic Indian cuisine. Here's what you can explore and experience in Little India:
Sri Veeramakaliamman Temple: This Hindu temple is one of the most prominent landmarks in Little India. Admire the intricately carved gopuram (tower) and experience the vibrant Hindu rituals and ceremonies that take place within the temple.
Mustafa Centre: This 24-hour shopping mall is a popular destination for locals and tourists alike. It offers a wide range of products, including electronics, clothing, jewelry, spices, and household items, all at competitive prices.
Little India Arcade: Explore the bustling streets of Little India Arcade, a shopping area filled with unique shops selling traditional Indian clothing, jewelry, handicrafts, and souvenirs. You can find colorful textiles, intricate sarees, bangles, and more.
Tekka Centre: Experience the sights, sounds, and flavors of a traditional wet market at Tekka Centre. Explore the market's food stalls, fresh produce, spices, and local delicacies. It's a great place to sample authentic Indian snacks and street food.
Indian Restaurants and Eateries: Little India is renowned for its authentic Indian cuisine. Indulge in a wide variety of dishes, such as biryani, dosa, butter chicken, and various vegetarian options. Must-try dishes include roti prata (Indian flatbread) and fish head curry.
Sri Srinivasa Perumal Temple: This Hindu temple is dedicated to Lord Vishnu and is known for its ornate architecture and colorful sculptures. Visitors can learn about Hindu mythology and witness traditional ceremonies.
Indian Cultural Performances: Little India often hosts cultural performances and festivals, especially during major Indian celebrations such as Deepavali (Diwali) and Thaipusam. Witness traditional music, dance, and street parades during these festive occasions.
Traditional Indian Sweets and Snacks: Don't miss the opportunity to try traditional Indian sweets and snacks in Little India. Popular treats include gulab jamun, jalebi, laddu, and murukku. Many sweet shops offer a wide variety of mouthwatering options.
Heritage Walking Tour: Take a leisurely walk through the streets of Little India to soak in the vibrant atmosphere and learn about the neighborhood's history. Some guided tours provide insights into the cultural heritage and significance of the area.
Ayurvedic Wellness: Little India is home to various Ayurvedic wellness centers where you can experience traditional Indian healing therapies, massages, and treatments. Relax and rejuvenate with Ayurvedic practices.
7. Singapore Botanic Gardens
A UNESCO World Heritage Site featuring stunning floral displays, a tropical rainforest, serene lakes, and the National Orchid Garden, which showcases a vast collection of orchid species.
The Singapore Botanic Gardens is a stunning and expansive green oasis in the heart of Singapore. It is not only a popular recreational spot but also a UNESCO World Heritage Site. Here's what you can explore and enjoy at the Singapore Botanic Gardens:
National Orchid Garden: The highlight of the Singapore Botanic Gardens is the National Orchid Garden, which showcases a breathtaking collection of over 1,000 species and 2,000 hybrids of orchids. Marvel at the vibrant colors and intricate beauty of these exquisite flowers.
Jacob Ballas Children's Garden: Designed for young visitors, the Jacob Ballas Children's Garden is a fantastic interactive space where kids can engage in educational and nature-themed activities. It features a water play area, treehouses, and educational exhibits.
Ginger Garden: Explore the Ginger Garden, a section of the botanic gardens dedicated to showcasing a wide variety of ginger plants. Admire the vibrant flowers and learn about the diverse species of gingers.
Rainforest: Take a leisurely stroll through the Rainforest section of the gardens and immerse yourself in the lush greenery. Discover a rich diversity of tropical plant species and enjoy the peaceful ambiance of the forested area.
Evolution Garden: Learn about the fascinating evolution of plant life at the Evolution Garden. Explore various themed areas, including the Diversity of Life, Food for Thought, and Survival Strategies, to gain insights into the wonders of nature.
Symphony Lake: Situated in the heart of the gardens, Symphony Lake is a picturesque spot where visitors can relax and enjoy musical performances by local bands and orchestras. Rent a paddleboat to explore the lake or simply have a picnic by the water.
Swan Lake: Admire graceful swans and other water birds at Swan Lake, a serene lake within the gardens. It's a peaceful spot to unwind and appreciate the natural beauty of the surroundings.
Botany Centre: Visit the Botany Centre, a hub for education and research within the Singapore Botanic Gardens. It houses a library, herbarium, and exhibition spaces that offer insights into the botanical world and ongoing conservation efforts.
Heritage Trees: Discover the Heritage Trees of the Singapore Botanic Gardens, which are recognized for their historical and ecological significance. These majestic trees have stood the test of time and are living witnesses to the garden's rich heritage.
Horticultural Therapy Garden: The Horticultural Therapy Garden is a therapeutic space that promotes healing and well-being through gardening and plant-related activities. It offers a serene environment for relaxation and reflection.
8. National Museum of Singapore
The oldest museum in Singapore, housing a vast collection of historical artifacts, multimedia exhibits, and interactive displays that offer insights into Singapore's rich heritage.
The National Museum of Singapore is the oldest museum in Singapore and is located in the downtown area. It showcases the history, culture, and heritage of Singapore through various exhibitions and programs. Here are some key details about the National Museum of Singapore:
History: The National Museum of Singapore was established in 1887 as the Raffles Library and Museum. It has undergone several transformations over the years and was renamed the National Museum of Singapore in 1965, after Singapore gained independence.
Building: The museum is housed in a beautiful colonial-era building that combines classical and modern architectural styles. The building itself is an important part of Singapore's heritage and has been carefully preserved.
Exhibitions: The museum offers a wide range of exhibitions that cover different aspects of Singapore's history and culture. From artifacts and photographs to interactive displays and multimedia presentations, the exhibitions provide a comprehensive and engaging experience for visitors.
Permanent Galleries: The National Museum of Singapore has several permanent galleries that explore various themes. These include the Singapore History Gallery, which presents the story of Singapore from its early beginnings to the present day, and the Life in Singapore: The Past 100 Years Gallery, which focuses on the social and cultural changes that have shaped the nation.
Special Exhibitions: In addition to the permanent galleries, the museum hosts special exhibitions on a regular basis. These exhibitions cover a wide range of topics, including art, design, fashion, and heritage. They often feature both local and international artists and collections.
Programs and Events: The museum organizes various educational programs, workshops, lectures, and events for visitors of all ages. These activities aim to enhance the understanding and appreciation of Singapore's history and culture.
Facilities: The National Museum of Singapore offers amenities such as a museum shop, café, and auditorium. The museum shop sells a range of unique gifts, books, and souvenirs related to Singapore's heritage.
Opening Hours and Admission: The museum is open daily from 10:00 AM to 7:00 PM. Admission fees may apply, but there are also free admission days for Singapore citizens and permanent residents. It's best to check the official website or contact the museum directly for the most up-to-date information on opening hours and admission prices.
Read Also : Top 10 Restaurants in Kansas city
9. Clarke Quay
A bustling riverside quay filled with lively bars, restaurants, and nightclubs. Take a boat ride along the Singapore River or enjoy the vibrant nightlife.
Clarke Quay is a historical riverside quay located in the Singapore River Planning Area, in the heart of Singapore's downtown area. It is a vibrant and popular destination known for its energetic nightlife, dining options, entertainment venues, and picturesque riverside views. Here's what you need to know about Clarke Quay:
History: Clarke Quay takes its name from Sir Andrew Clarke, a British colonial administrator and governor of the Straits Settlements from 1873 to 1875. The area was once a bustling trading hub along the Singapore River, playing a vital role in Singapore's early economic development.
Riverside Setting: Clarke Quay sits alongside the Singapore River, providing a scenic backdrop with charming historic shophouses and beautiful riverfront promenades. The area has undergone extensive revitalization and is now a bustling entertainment district.
Dining and Entertainment: Clarke Quay is famous for its wide array of dining options, from local street food stalls to international cuisines and fine dining establishments. There are numerous restaurants, cafes, and bars offering various culinary delights. In the evening, the area comes alive with live music, clubs, and pubs, making it a hub for nightlife in Singapore.
Shopping: Clarke Quay is home to a diverse range of shops, including boutique stores, souvenir shops, and specialty stores. Visitors can explore fashion boutiques, jewelry shops, art galleries, and more, offering unique shopping experiences.
Entertainment Venues: Alongside the dining and shopping options, Clarke Quay features entertainment venues such as the G-MAX Reverse Bungy, which offers an adrenaline-pumping experience, and the Clarke Quay Central mall, which houses a cinema and other entertainment facilities.
River Cruises: Clarke Quay serves as a popular starting point for river cruises along the Singapore River. Visitors can embark on a relaxing boat tour that takes them past key landmarks and offers a different perspective of the city.
Festivals and Events: Clarke Quay hosts various events and festivals throughout the year, including music festivals, cultural celebrations, and outdoor performances. These events add to the vibrant atmosphere of the area and attract both locals and tourists.
Accessibility: Clarke Quay is easily accessible via public transportation, including the Clarke Quay MRT station on the Northeast Line. It is also within walking distance of other downtown attractions like Chinatown and Marina Bay.
10. Singapore Zoo and Night Safari
The award-winning zoo offers a chance to see a wide variety of animals, while the Night Safari provides a unique opportunity to observe nocturnal creatures in their natural habitats.
The Singapore Zoo and Night Safari are two popular wildlife attractions located in Singapore. Here's what you need to know about each of them:
Singapore Zoo:
Overview: The Singapore Zoo, also known as the Mandai Zoo, is a world-class zoological park that spans over 28 hectares of lush rainforest. It is known for its open-concept enclosures, where animals roam in naturalistic habitats, providing visitors with a unique and immersive experience.
Animal Exhibits: The zoo is home to a diverse range of animal species from around the world. You can observe animals such as lions, tigers, elephants, giraffes, orangutans, pandas, and many more. The zoo focuses on creating habitats that resemble the natural environments of the animals, allowing visitors to see them in a more authentic setting.
Interactive Experiences: The Singapore Zoo offers various interactive experiences that allow visitors to get up close with the animals. You can enjoy feeding sessions, animal shows, and even have the opportunity to take a photo with some of the friendly animals.
Rainforest Kidzworld: The zoo features a dedicated area called Rainforest Kidzworld, designed for children to learn about animals through interactive exhibits and water play areas. It offers educational and entertaining activities suitable for young visitors.
Conservation Efforts: The Singapore Zoo is actively involved in wildlife conservation and plays a crucial role in breeding and research programs for endangered species. It promotes awareness about conservation issues through educational displays and programs.
Night Safari:
Overview: The Night Safari is a unique wildlife park that offers visitors the chance to observe nocturnal animals in their natural habitats. It is the world's first safari park for nocturnal animals and provides a captivating and immersive nighttime experience.
Tram Ride: The Night Safari features a guided tram ride that takes you through different habitats, allowing you to see animals such as tigers, elephants, leopards, rhinoceroses, and various species of deer. The tram ride provides an overview of the park and offers close-up encounters with some of the animals.
Walking Trails: In addition to the tram ride, the Night Safari has walking trails that allow visitors to explore the park on foot. These trails provide a closer look at animals such as fishing cats, wallabies, and bats. There are also informative displays and live presentations along the walking trails.
Creatures of the Night Show: The Night Safari features a nightly Creatures of the Night Show, where you can witness the amazing abilities of nocturnal animals through an entertaining performance.
Dining Experiences: The Night Safari offers a range of dining options, including a buffet dinner and themed restaurants. It's a great way to enjoy a meal while surrounded by the sights and sounds of the nighttime zoo.
Read Also : Best Summer Holidays Destination in the World
Remember to check for any travel restrictions or guidelines before planning your visit. Enjoy exploring Singapore!